Our Success Stories
Sandi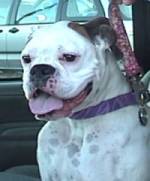 Sandy is a five year old spayed white female who is full of boxer energy and affection. She is an owner surrender and ready for a full time commitment from her forever family. Her previous owner passed away in August of 2001 and family members were unable to keep her. She was placed in a few temporary homes while the family attempted to find a home for her. This was very stressful for Sandy and the family so rescue was asked to find her the perfect forever home.
Sandi was placed in a wonderful foster home where she played nonstop with Daisy, a dachshund/sheltie mix and a one year old child. She continued to work on her manners like walking well on a leash, sit, down and stay, and giving cues to go outside.
Sandi found her forever home with a fantastic gentleman who came to know boxers in a great way. His daughter and family adopted Jake from us and when they travel, Jake would spend time at this gentleman's home. This gave him a love for the breed and he pursued getting a dog for himself. When he contacted us, we have just picked Sandi up and knew that this could be the perfect fit. Low and behold, after their first meeting, Sandi was ready to make this a forever friendship!!! We are very happy that these two have connected and are ready to cuddle, play and share some real quality time together!