Our Success Stories
Randi (formerly known as Precious)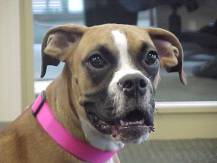 This sweetheart of a dog came to us as an "owner surrender" and needed some serious medical attention. The story we were told when we were called about her was that a gal and
her kids found her in a park with a limp. The truth of the matter was the gal owned the dog and it had been hit by a car. The accident destroyed Randi's iliac (hip socket) and needed surgery. Through the help of some very generous donations from club members and a wonderful team of surgeons at Veterinary Specialists of Omaha, we were able to have the needed procedure to repair Randi's hip and offer her a more 'normal' boxer life.
After the surgery, Randi needed some special love, care and quiet time. A fantastic family who had adopted a great boxer boy, Ried, from us about a year ago stepped in to give her the special attention required for her recovery time. What a blessing! The family not only cared for her throughout her recovery, but they have added Randi to their home PERMANENTLY. All are doing well. Randi and Ried love to play in the yard and receive all the treats and affection their family has to offer.