Our Success Stories
LILY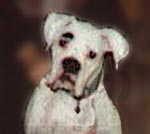 Lily is a young white female boxer whose owners did not claim her after she was picked up in a school yard by the Nebraska Humane Society. She is a sweet, affectionate girl who is afflicted with a heart murmur. Despite her "flaw" she quickly won the hearts of her loving adoptive parents, Dave and Sheila North. She is now in obedience classes with her "cousin" Riley, also a rescued dog. Thanks to this family, Lily now has a permanent loving home.
Lily was joined by Mikey another rescue. They are a match made in heaven. They play and run constantly, stopping only to snuggle.
On May 25, 2002 Lily crossed over the Rainbow Bridge to run with all those who have gone before her. While she runs, she will remember the love she received from her human family. Lily passed while playing with her boxer brother, Mikey, as a result of her heart condition. It was quick, and over before her family even realized something was wrong.
Lily will be remembered as a true companion and friend, gentle and loving.