Our Success Stories
Wally
2004 to February 2005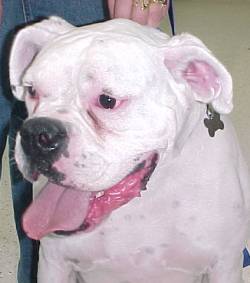 Wally came into rescue early in 2004 at the age of about 2 after being abandoned along with several other pets when his family moved. He spent much of his life tied out in the backyard with no shelter. We believe that this lack of positive interaction and socialization early in his life contributed to many of the dominant and overly protective behaviors he started to exhibit towards people other than his foster mom.
It is with GREAT sadness that he was assisted over the bridge by his foster mom in early February of 2005.
Run Free Wally...
until we meet again,
rest in peace!