Our Success Stories
TRUMAN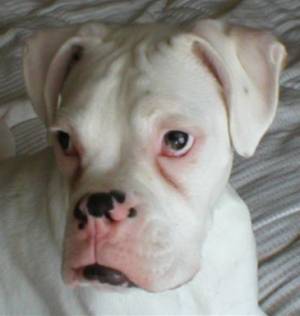 Truman and his "Big Sis" Sally
When Truman came to us he was a tiny 4 month old deaf pup looking for a home to call his own. He needed some time to learn hand signals and some basic manors, which he did quickly at his foster home. He is a smart pup and eager to please. Truman met his forever family in February of 2002 and is growing and doing great!! He joined a great family of four, three humans and a boxer named Sally. Sally is not only his big sis, but serving as his ears and mentor. Truman is very gentle with Alex, the family's infant son, and is content to snuggle next to him to be his buddy. Truman continues to work on his hand signals and is learning things every day. THANKS BOXER ANGELS!
UPDATE AS OF JUNE 2003: As you can see, Alex the baby, Truman our hero and Sally the true queen get along very well and even like to share chew toys. Truman especially likes binkies and little round objects. Alex seems to like rawhide bones as well as his own food! (Seriously though, we do keep them away from him.)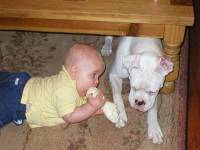 Truman and Sally are Two peas in a pod!!! And with Truman at 11 months and as big as Sally now...yipes they grow so fast!