Our Success Stories
Sidney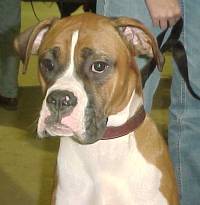 Sidney came to rescue after an ad in the paper listed him as "Free to Good Home". After we talked to the family, they agreed that boxer Rescue was a great way to find Sid a home.
In January of 2003, Sidney went home with a great couple and their female boxer Sadie. Sadie and Sidney are the perfect playmates and really keep each other happy!
Update 6/13/05 - Sid is doing great! Hasn't changed a bit - still big ol' goofy Sid! Full of energy and a good companion for Sadie. I think these two are meant to be!