Our Success Stories
PORTER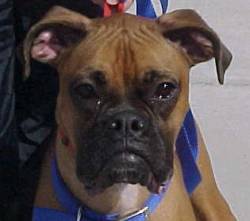 Porter was dropped off at the Nebraska Humane Society by his owners. They said they were moving out of town and couldn't take him with. A week or so later, Porter's former owners found out about rescue and offered to pay the adoption fee to get him out of the Humane Society and then surrender him to rescue.
Porter is a silly little boxer boy. He's tall and lanky and a tiny bit clumsy. But has a heart of gold. Unfortunately Porter had come down with Strep Throat in foster care and need a little more time before he was adopted out. Now he lives in his forever home with a great mom who is there with him all day long!!! She is also a Caterer, maybe we'll change her profession to Pet Caterer. I'm sure Porter would love that!
It is with great sadness that we must post that Porter has crossed over Rainbow Bridge. Porter passed over the bridge as a result of a massive heart attack. We know how heart issues are a constant concern for our beloved Boxers and they can find Boxers of all ages, Porter was no exception. He will be remembered as a loving companion and friend.
We will look for you again, Porter! One day we will be reunited to run and play as we once did on Earth! We will miss you!