Our Success Stories
MUGZY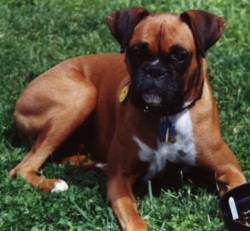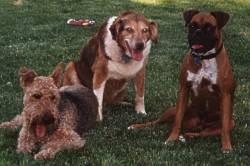 Affectionatly called Mug-Bug, pictured with his buddies Missy (the hound seated in the middle) and Karma the Airedale.

Mugzy is a plain fawn male who is guessed to be between 2 and 4 years old. He came to rescue by fate. He wandered onto a farm in central Nebraska with a Golden retriever. The farm owners spent days trying to locate owners and when they did find them the owners said to shoot them. Well...this could not happen! Many people were involved in getting Mugzy to his forever home and we thank all of them!

His forever home is PERFECT!!! Mugzy was adopted by a couple in Lincoln, Nebraska where he joins a mixed breed female named Missy and an Airedale named Karma. He entered rescue timid and shy; he is now a healthy and happy boxer on his way to being spoiled rotten (as it should be!!!). He loves to crawl under the covers in bed and curl up on the couch with his human companions.

Mugzy is a true success story because many people worked together to bring him to the point that he is at now!!!
Thank you Boxer angels!