Our Success Stories
MOE
?? - 3/22/06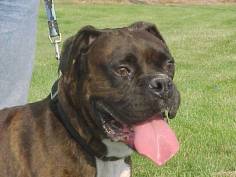 Moe was found tied to a partially submerged car in the Missour River (hence the name Moe) and was rather thin. He is approximately 5 years old and a dream of a dog. He has a solid gold personality and LOVES everyone he meets. His new forever family is very lucky to have this great pal in their family. Moe joins a cat and a one year old in this special family. Good luck Moe!
2003 update from Moe's family: He is the greatest. My daughter Grace who is now 3 1/2 just loves to hug him and occasionally puts doll clothes on his head. He just sits there and looks at me as if to say, "I better get a treat for this." He is a love dog and always wants to be apart of the action. Loves car rides and going for walks when the weather is good. Thanks again.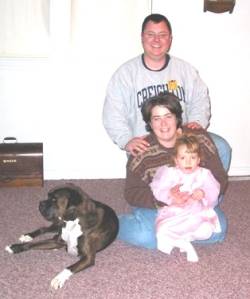 Update 3/22/06 - Back in 2000 we adopted Moe from the Missouri Valley Boxer Rescue. I just wanted to pass along that Moe passed away today 3/22/06. We approximated his age at about 11. He began suffering from lymphnotic cancer in November and it finally got the best of him. Words cannot tell you how much Moe has meant to my wife, two daughters, and myself. I could not have asked for a better pet, companion, and napping buddy. The first day Moe came to visit and just strolled up to me and sat down we knew he was the dog for us. His laid back style and playful attitude was a welcome addition to our home. He is missed. Thanks for letting Moe into our lives.