Our Success Stories
Mercy
formerly called Savanna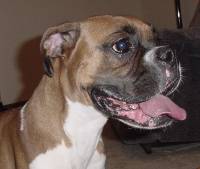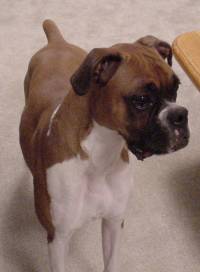 Savannah was 3 years old when she entered Rescue after her owner needed to surrender her due to a change in her living arrangements. She entered a new foster home and quickly melted their hearts. They did a great job working her into a routine and teaching her a few manners.
She was adopted in late March of 2003, renamed MERCY and has received glowing reports from her new mom.
"First, I will say, "wonderful" hardly describes her! Truly, she is a blessing to my home and to me!!! Most days I am simply amazed at how well she/we have adapted/adjusted---it is like she has been here for years (she is lying at my feet as I type this). She is such a good girl---albeit stubborn at times =)---and truly a joy! She loves our walks, playing ball, and generally just being outside in the backyard. Our biggest (pretty much only) disagreements come when she wants to stay outside and I want to go inside! =) She stays in her crate during the day w/o complaint now and just last night she slept on her bed, instead of the crate. She did great! =) We are scheduled to begin obedience school in early May which I think will help us work out the few wrinkles we do have in general obedience "stuff". But truly, I could not have been blessed with a better companion. "
We would like to thank ALL involved in making this a HAPPY STORY!