Our Success Stories
Lacey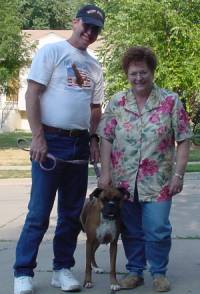 Lacey's new family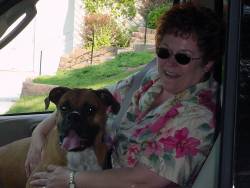 Ready for the trip home:)
Lacey came to us from a family with 3 children. She had to be surrendered because her owners thought their new house was too good for the dog. Come to find out...she was being passed around to 4 different homes in her 7 years of life, poor girl...until she fell in the lap of rescue. When Lacy came to us, she had several suspicious growths that needed to be removed. The tumors were removed and tested. Our vets are confident that her prognosis is good!

When Lacy first came to us, we thought we would have a tough time placing this older gal, 7 years old. But instead the Boxer Angels were looking out for her to!!! After our wonderful vets fixed her up, she was adopted by Sileen to spend the rest of her years in a home that will appreciate and love her. We were contacted by this great couple who wanted to give her a shot! After being picked up by her forever home, she made an instant impression on both family members. They are loving her to death... THANKS TO ALL who helped make this a happy ending!
Special thanks to The Pet Clinic, Omaha, NE for the care and special attention they gave Lacey and also to her foster home where Terry and Amellia took wonderful care of her and allowed her to be a boxer.

Update on 15 Feb 2004
Lacey is healthy and happy. We all have settled into a good routine. Of course Lacey is spoiled. She adores all of my grand children. We had our family get together January 3 at my oldest daughters home. There were 10 adults, 13 children from 1 year - 15 years, 6 dogs including Lacey. What a houseful. Lacey was a lady and quite the little mother for the 3 pups there. I will never understand how anyone could just give her away. She is very well behaved, she sits pretty, plays like a puppy, heals on leash, we're working on stay, kennels easily, goes to bed when it's time (she has a bed in my room and in her kennel). She has a wonderful personality. What more could anyone want? She doesn't like the snow, let's me put her sweater on her reluctantly before we go outside, rides well in the truck for long distances, but does not want to stay on the floor so I have purchased a dog seatbelt for her. Of course I could go on and on about her. She is a jewel. I have no regrets about picking her, I feel like the lucky one.