Our Success Stories
JOE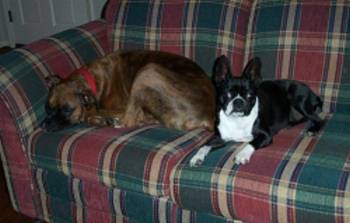 Joe came to Boxer Rescue after being confiscated from a neglectful owner in York, NE. He had been left for several days without food and water. The Boxer angels were looking
out for him and he found his way into the program and a great foster home.
He was then adopted by a single gentleman. He was an only dog and insisted that his new owner entertain him constantly. Then, his adoptive owner was required to change jobs and move. This move would not work out for Joe, and he was returned to Boxer Rescue.

After several more months in rescue, Joe met the family of his dreams...which includes a wonderful, playful Boston Terrier named Wrigley. He now lives with the dream family and will spend his days playing, sharing toys and couch space with Wrigley.