Our Success Stories
Holly: A testament to the breed!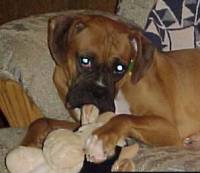 Chapter one:
Holly was found in the backseat of an abandoned car around Christmas time. The car was about to be towed and the tow truck driver almost missed Holly in the backseat. She was curled up tight in a ball trying to keep warm. The owner of the car could not be located, so Holly was taken to the local shelter. Her owner was later located and arrested on several charges and didn't care what happened to Holly.

When Holly first came to rescue, she was very thin and timid. With a little love and patience, she quickly came out of her shell.
Holly was placed in a home in late January, but just three short weeks later, she came back to rescue. Her adoptive home decided a previous back injury was going to prevent them from giving an active dog like Holly a home.
Chapter two:
When Holly came back to rescue, she seemed to have lost a lot of her confidence and manners. We quickly enrolled her in a basic obedience class where she excelled and was by far the best dog in her class!!
After spending several months in her foster home, Holly found another home. She was an only dog, and shared her house with a cat a and great little boy to give lots of licks to. After a year at the home, a strange situation brought Holly back to rescue.
A HAPPY ENDING!
After several health tests and the green light from our fantastic vets, Holly was placed in a home where she is the center of attention and the recipient of tons of love!
She is living the life of a queen with a large yard and all the positive interaction a Boxer could dream of!
Thanks to the Boxer Angels for looking out for this little girl!