Our Success Stories
DESSI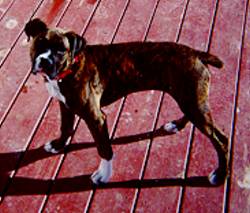 This sweet 6.5 month old brindle girl came to rescue through an owner surrender. At an early age this little girl developed a pocket of infection on her cheek and was treated with antibiotics. The pocket would receed under the treatment, but as soon as the medication was stopped the inflammation would return. A drain tube was tried, but this too failed. The expense of the treatments were too much for the owners and they released her to Boxer Rescue. We are exploring options of how to treat this little girl's infection.
Dessi had surgery the week of January 15 to explore the reason for the infection in her cheek. She had a salivary gland that was not functioning properly and it needed to be removed. There is the possibility that another procedure will be necessary. Therefore, Dessi is another dog within our program to fall in the "special needs" category who is in need of your help!
She is currently in a wonderful foster home where she is learning to play from the other boxers. She is having some trouble with housetraining and will need some extra attention in this area. As always, we recommend that an obedience class would be great for her, too. Dessi has had a rocky start to life and is looking for her forever home.