Our Success Stories
Chase
Formerly known as Frannie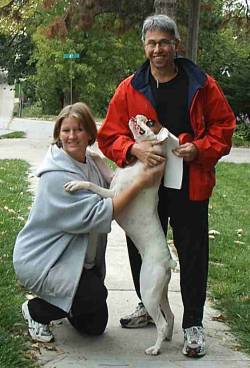 Chase came to Boxer Rescue from the Humane Society in Grand Island, Nebraska. She is a young, deaf female who evidently she was a "frequent flyer" at the shelter and when her owners were contacted, they didn't want her anymore.
So, Chase came to live with her foster mom. While there she was re-named Frannie since it wasn't known whether Chase had been the name given to her by her previous owners or the Humane Society. Frannie had numerous fly bites and didn't really seem like she knew what it was like to be inside. She also did not know any hand signals and didn't fully grasp potty training. She was smart and learned "sit" and "shake" for treats and finally managed to figure out the house training thing. When she came to her foster home, she did not seem to know how to play with toys or with other dogs, but she was soon burning circles around the back yard and playing tug-o-war with her new Boxer brother.
A family from Kansas City made a trip up to meet Frannie and fell in love with her. They have made her a part of their family which includes two teenage children, a Jack Russell Terrier named Dodger and a Greyhound named Aster. She is already in obedience classes and doing very well with those. They call her by her original name Chase and she continues to stick her tongue out at everyone she can!