Our Success Stories
BEAU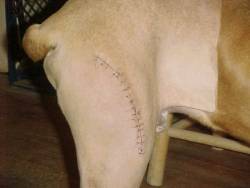 Beau's right leg after surgery.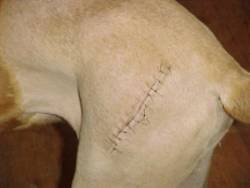 Beau's left leg after surgery.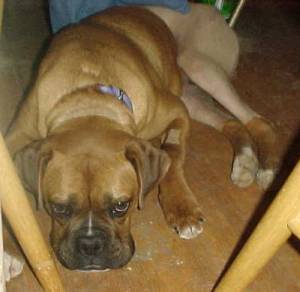 Beau after his surgery, but now it is
BEAU and his Success Story
Entered Missouri Valley Boxer Club's Boxer Rescue program on Monday, February 18th, 2002. Beau, originally named Budroe, has a story that we are all too familiar with. He was purchased/traded at a swap meet in rural Missouri. On the day of his 7 month birthday, Beau was hit by a car. Not a fun way to spend one's Birthday. The damage was extensive and his owners could not afford treatment, so they brought him to the vet for euthanizing. The attending vet thought Beau deserved a chance and thought instantly of Boxer Rescue. He got the owners to surrender Beau to him, and he and his staff began contacting Boxer Rescue groups in the surrounding states. The attending veterinarian was awesome. Not only did he vaccinate Beau and heartworm check him for us free of charge, but he also worked out transportation for him to Iowa State Veterinary College where treatment had already arranged.

Beau arrived at Iowa State on Tuesday, was evaluated and scheduled for surgery on Wednesday. After evaluating Beau's condition and doing x-rays, it was determined that Beau had a clean break on his right rear leg and on the left rear leg, he had a very serious fracture. The "ball" was knocked off the femur, and he had an ascetabular fracture. The ascetabular fracture alone is very serious, but coupled with the other breaks, he was in bad shape. The vets performed surgery the next day, inserting plates, pins, wires and several different sizes of screws to hold him all together. By that night, Beau was up and walking with assistance. Less than one week later, Beau was discharged. The vets and vet techs had fallen in love with him. His good natured personality and his amazing recovery were a source of constant amazement to them!!

Now, on to Beau's recovery. We needed a quiet place for Beau. He couldn't go up and down stairs and basically needed crate rest and constant supervision for about six weeks. Beau entered our foster home very frightened and unsure of himself. He was shy around new people, especially men and would quickly hide under the table when someone new came. Housetraining him proved to be a big job. When he was taken out in the yard to potty, he would shake uncontrollably. He was scared to death of the traffic and couldn't wait to get back inside the house where he would promptly do his business. This went on for about three weeks and the foster mom was getting a little frustrated. Beau visited our rescue coordinator's home for a few days where he seemed to get the hang of pottying "outside". From that point on, Beau's housetraining improved quickly. Over the next several weeks, Beau obviously felt better and better. He got more rambunctious and began behaving like the normal 9 month old Boxer puppy he was. Beau proved to be quite the clown during this whole healing process. He spent his days collecting toys under the table where he liked to lay on his rug. If his rug got moved for some reason, Beau would go and find a blanket and drag it under the table. Our foster home also seemed to "forget" what 9 month old Boxer puppies are capable of. Even though I had warned her repeatedly about leaving him out of the crate, she still did it. Well, until he ate the cushions from her couch that is!! From then on, she KNEW that Beau was fully recovered and ready for his own home!!

During his recovery, Beau had been around many other dogs, male and female, big and little. He behaved admirably around all of them. We knew he'd be easy to place. Thanks to our wonderful network of Boxer Rescue Groups (Midwest Boxer Rescue) in the Missouri, Kansas, Iowa and Nebraska states, Beau found a wonderful home in Topeka, KS with a lively 8 month old Boxer girl and a very gentle and calm 8 year old Boxer boy. Beau's new mom reports that she doesn't need T.V. anymore because Grace and Beau keep her entertained 24 hours a day!! Beau's new mom is a firm believer in obedience (which Beau needed desperately) and Beau will be entering his first obedience class shortly.

With the help of the ABRA ER Fund, and several generous donations from Boxer lovers everywhere, we were able to cover the expense of Beau's surgery, which was $2,022 and some change when it was all said and done!! Thanks to everyone involved in this success story!