Our Success Stories
Ace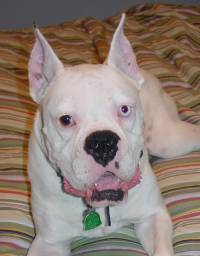 Ace was bounced around prior to finding his forever home...He was given to someone by his original owners and the "new" owners did not look after his best interests. He was picked up by the Humane Society and not claimed. We were contacted and welcomed him into the program.

Ace found his forever home in July of 2003 and he receives GLOWING reports! It has been stated by his new people that, " Ace is just fabulous! We are just having a blast with him. He is just so funny and has the best personality. We are getting better at reading him which helps all of us. He has definitely become part of the family. My son and him are best buds. He is so good with the kids and they just love him. It has been such an easy transition. I think the fact that he is an incredible dog and that we were truly ready for one, makes all the difference in the world. The only problem we have is he thinks our bed is his after we get up in the morning! He just makes himself at home and snuggles in between the pillows! I laugh, my husband rolls his eyes and smiles. He is so darn cute it's hard to remember to discipline him! Thanks again for everything. The "five" of us appreciate all you have done."
Thanks Boxer Angels for another happy ending!!!