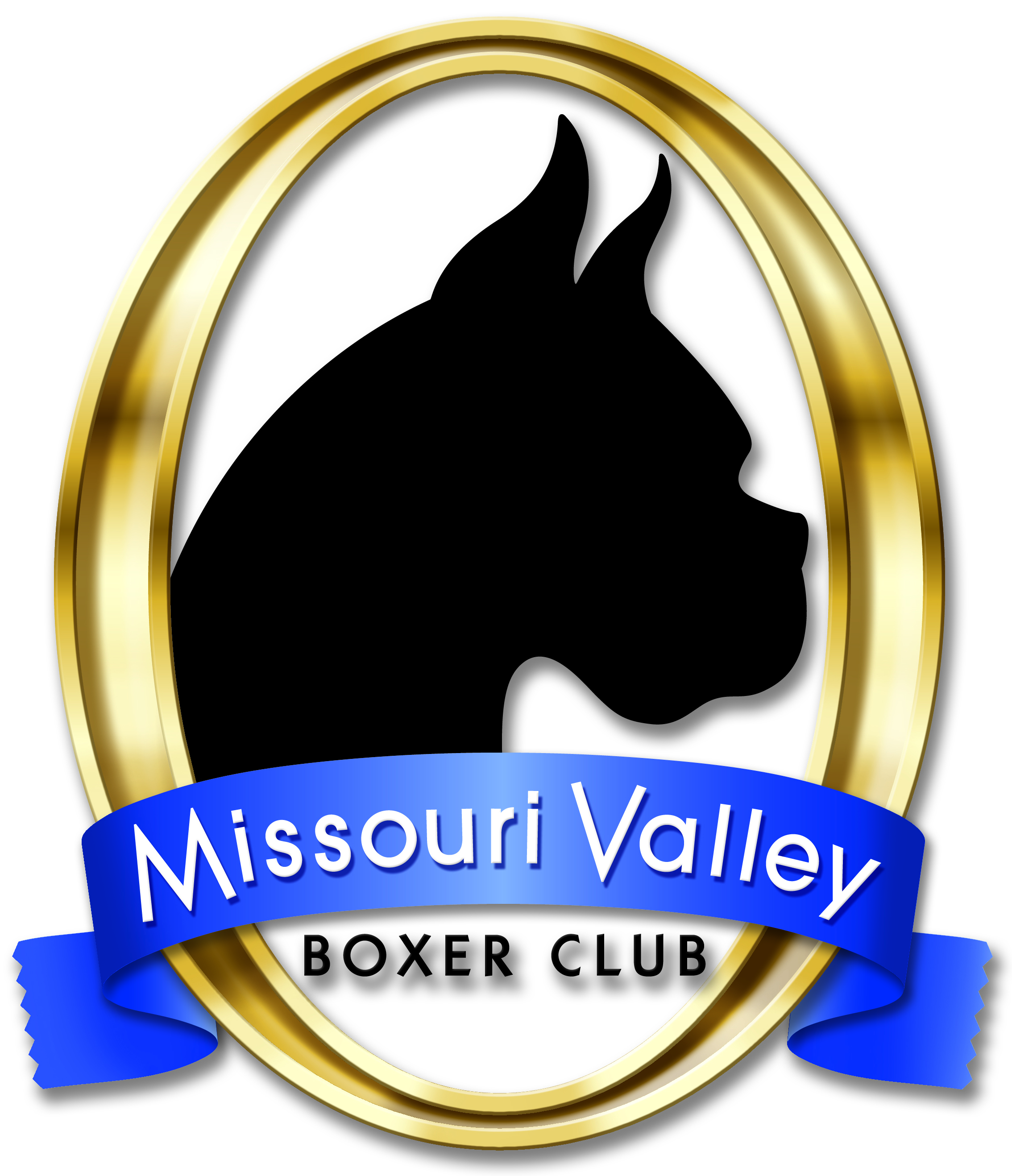 Welcome to the Missouri Valley Boxer Club website. We are glad you found us. It is our mission as a club to ensure the quality and integrity of the breed. The approaches we take to secure the longevity of the boxer as a fun-loving, energetic, beautiful breed are both educational and fun. Our club is based in the Omaha-Lincoln area in Nebraska, but we have members throughout the United States. We have been in existence for over 30 years and have many champion members to prove it. Our club member's backgrounds range in experience from showing in the confirmation, obedience and agility rings, to the active pet owner, living side by side with their 'boxerkids,' wanting to share with others their unique boxer stories. To find out more about the MVBC and what we are all about, use the buttons on the left to explore our site.
----------------------------------------------------------------------

The Missouri Valley Boxer Club premium list is online - http://www.onofrio.com/plist/bcgo1pl.pdf - REMINDER - entries do not open until Thursday, September 3, 2020 at 8:00 PM. And
ALL ENTRIES must be mailed to a Jack Onofrio Dog Shows post office box via First Class Mail without a signature required for delivery OR through onofrio.com. Entries for any show are not acceptable prior to the publishing of the premium list for that show and must be received by the official closing date and time.
LATEST UPDATE AUGUST 31, 2020 - Onofrio will post our premium list later tonight or tomorrow morning. Because of the late posting of the premium list, the opening date has been changed to Thursday, September 3, at 8:00 pm.
IMPORTANT INFORMATION - RULES FOR THE SHOW AND ENTERING
The Cornhusker Kennel Club and all of the Specialty Clubs will be following all of the current guidelines that are in place in Lincoln/Lancaster Country, NE. We will do our best to make sure those guidelines are in the premium and/or the judging program, but due to changes that are made as needed, we may need to post new guidelines on the doors of Pavilion 1.
Masks will be worn by EVERYONE while in the show buildings and social distancing guidelines will need to be followed.
There will be NO stand blow dryers or forced air of any kind in the show buildings or indoor grooming areas. HANDHELD BLOW DRYERS ONLY. If you need to use a blow dryer, bring a popup tent and your own generator so you can do that outside.
We will be social distancing grooming spaces. Free grooming with no electricity will be in the Multi-Purpose Room.
We will not be providing chairs around the group rings, bring your own chairs. We reserve the right to limit chairs.
We strongly suggest that you bring hand sanitizer and your own mask.
All participants are expected to adhere to all local restrictions in place at the time and location of these shows with regard to the Coronavirus (COVID-19).
A waiver will be in the premium list for you to fill out and turn in at the catalog desk. You will receive a wristband which must be worn in the building. Waiver forms will be available if you don't have one.
CKC has made the decision to have online and first-class mail entries only. We understand that will not make some people happy, but it really seems to be the fairest way of doing entries, Hopefully, this will be for one year only. Entries will open at 8 PM on Sept 1. Most people should be home from work at that time and should be able to get their entries in.

You can still use an entry service if you want to, but they have to put the entries in online, there will be NO walk-in entry accepted. If you want to do first-class mail, it cannot get there before the morning of Sept 2 (since the opening time is after Onofrio is closed).

All moving Boxer Graphics by George Dockter
----------------------------------------------------------------------